CHINMAYA RAMARAYAKAVI SERIES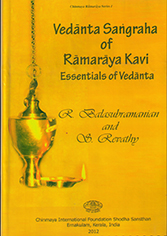 Vivarnadivishnusahasranamavali savyakhya-In the present work late Sri Bellamkonda Ramarayakavi (1875-1914) has embarked upon a new venture keeping in mind the Vyasa's lines : yani namani gaunani vikhyatani mahatmanah, Rishibhih parigitani tani vakshyami bhutaya. These line underline the validity of synonyms. In other words, any name can be applied to God Vishnu – literally the one who pervades the whole universe. But the author has to compose his own commentary to justify the derivations of such appellations. It is here that our author has excelled in his venture. He had justified many names by quoting authoritative verses on lexicography. The rate feature of the present work is that eachand every synonyms of Vishnu is beginning with the syttable 'vi' Naturally the work is entitled 'Vivarnadivishnusahasranamastotram'. His commentary is self-explanatory giving no scope to criticism.
| | |
| --- | --- |
| Editor | Prof. R. Balasubramanian & Dr. S. Revathy |
| Language | Sanskrit and English |
| Series | Chinmaya Ramarayakavi Series – 1 |
| Pages | 214 |
| Year | 2012 |
| Price | Rs. 300 |
| ISBN | 978-93-80864-13-6 |
Vedanta Sangraha of Ramarayakavi – Translation by Prof.R.Balasubramanian and Prof. S. Revathy – Sri Ramaraya Kavi's Vedanta Sangraha is one of the fundamental and important texts on Advaita Phiosophy. It describes the basic theories and concepts of Vedanta. The interpretation and explanation of the text give us an insight into Advaita. It is also significant to note that while establishing his own doctrines, Ramaraya Kavi has explained in detail the different technical terminologies of Vedanta used by the philosophers of that period. The text is set in fifteen chapters and deals with different topics starting from avidya to advaita-siddhi. The commentaries on different aspects of Vedanta closely follow Sri Sankara, and as such it really helps the beginners and scholars as well.
| | |
| --- | --- |
| Author | Dr. Dilip Kumar Rana |
| Language | Sanskrit |
| Series | Chinmaya Ramarayakavi Series – 2 |
| Pages | 154 |
| Year | 2013 |
| Price | Rs. 325 |
| ISBN | 978-93-80864-17-4 |