The CIF Shodha Sansthan manifests its academic, research work in its publications, national and international, conferences, and exhibitions. CIFSS publishes books are mainly distributed by the co-publishers and with Parent Body. There is a Book sell counter as CHINMAYA VANI in the CIF premises and as well as CIFSS Library, under the supervision of Director/Librarian, CIFSS to make all the publications accessible for readers and scholars. CIFSS publishes the books in four series: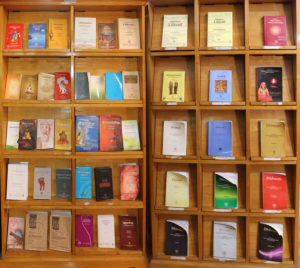 CIFSS Research Journal DHIMAHI
Central Sanskrit University Books published under Ministry's scheme of reprint of rare book and publications of different campuses
The buyer can select the CIFSS publications and RSKS publications from the above mentioned lists and details of the same with the payment (as per the details given in the payment mode) can be sent to Director on the address mentioned below.
Payment mode:
International Customer can make the payment through Bank Transfer. Customers from India may send payment by Demand Draft in favour of The Director, CIF Shodha Sansthan, payable at Piravom. Electronic transfer of money may be sent as per the details below:
Director, Chinmaya International Foundation Shodha Sansthan
Account No. 67107271554
IFSC SBIN0070160
State Bank of India
Piravom Town Branch, Piravom, Ernakulam, Kerala –  686664
For CIFSS and RSKS publications please contact or write to:
Contact Person:
Smt.  Rajalekshmi C V
Librarian
Chinmaya International Foundation Shodha Sansthan,
Adi Sankara Nilayam, Adisankara Marg, P.O Veliyanadu, Dt- Ernakulam, Kerala, INDIA
Pin – 682313
Telephone: 91-484- 2747104
E-mail: librarian@chinfo.org, cifss@chinfo.org